Were You Rear-Ended in a Florida Car Accident?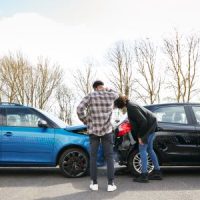 Rear-end collisions are one of the most common types of car accidents in Florida, where increasing traffic and an aging infrastructure have led to a higher rate of fender benders and multi-car pile-ups across the state. In fact, according to the Florida Department of Highway Safety and Motor Vehicles, almost 30 percent of car crashes qualify as rear-end collisions. Fortunately, motorists who are injured in these kinds of crashes are often entitled to compensation from the at-fault party who caused the accident. To learn more about filing this type of claim, please reach out to our legal team today.
Florida is a No-Fault State 
When it comes to car accident claims, Florida is a no-fault state, which means that generally, accident victims must first seek compensation from their own insurers after a crash. In these cases, claimants don't need to prove that anyone was responsible for the accident, but can collect a portion of their medical expenses and lost wages from their PIP insurance provider. There are, however, some exceptions to this rule. For instance, someone who is seriously hurt in a rear-end collision can pursue compensation from the other driver or his or her insurer directly, seeking reimbursement not only for medical bills and lost wages, but also for property damage and pain and suffering.
Presumption of Negligence in Rear-End Accidents 
In most accident cases where a victim is seriously injured, that person will need to prove that someone else's negligence was responsible for the crash. Things are a bit different, however, with rear-end car accidents, where the motorist in the rear position is generally presumed to be negligent for the crash. Whether this took the form of speeding, following too closely, or just failing to pay enough attention, the at-fault party can be required to compensate the victim unless he or she can rebut the presumption of negligence.
Comparative Fault Could Affect Your Rear-End Accident Claim 
Although the driver in the rear is usually at fault in rear-end accident cases, it's also important to note that an accident victim's own actions could still affect his or her claim under the state's comparative negligence laws. Under Florida's modified comparative negligence standard, accident victims who contribute to their own injuries can have their damages reduced in proportion to their degree of fault in causing the crash. If, however, an injured party's percentage of fault exceeds 50 percent, then he or she will be barred from recovery. In a rear-end accident case, contributing actions could include everything from stopping suddenly on a busy roadway to not having functioning brake lights.
Trust a Tampa Car Accident Attorney with Your Legal Rights 
At Anderson & Anderson, our experienced Tampa car accident attorneys and dedicated support staff have been helping accident victims seek compensation after their crashes for almost 40 years. Please call us at 813-251-0072 to get started on putting our experience and skill to work in your own case.
Sources:
 forbes.com/advisor/car-insurance/florida-no-fault-insurance-reform/
americanbar.org/groups/litigation/committees/mass-torts/practice/2023/florida-tort-reform/