Were You Injured in a Stopped-Vehicle Accident?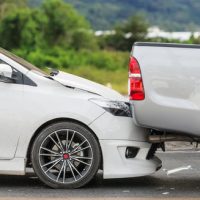 Car accidents can and do happen in a number of different ways. In most cases, for instance, collisions involve two vehicles that were moving immediately prior to the crash. This, however, is not the only way that car accidents occur. Accidents involving a stopped-vehicle, for instance, occur at a surprisingly high rate in Florida. Unfortunately, recovery in these kinds of cases often ends up being a bit more complicated, which is why seeking the help of an attorney is so important for those who find themselves involved in this type of crash.
Crashes with Stopped or Disabled Vehicles 
When most people think of a car accident they imagine two vehicles that were traveling right before the crash. While this can and does happen, it's also true that thousands of people are injured in car accidents in which one of the vehicles was stopped or disabled, every year. In many cases, however, it isn't another vehicle that is struck, but the person who is leaving, working on, or returning to a stopped vehicle. These collisions tend to have particularly devastating consequences for the pedestrian, many of whom sustain fatal injuries.
What Causes Most Stopped-Vehicle Accidents? 
Most stopped-vehicle accidents are the result of a few different causes, including:
Speeding, which lowers the amount of time a driver has to adjust for road conditions or to avoid a disabled or stopped vehicle;
Distracted driving, which increases the chances that a driver will collide with a stopped vehicle, simply because he or she wasn't paying attention to the road; and
Road conditions, which could be affected by inclement weather and road construction, making it more likely that a car will become disabled or involved in a car crash.
Who can be held liable for a stopped-vehicle accident depends on which of these issues caused an accident. Potentially liable parties include:
The driver of the stopped vehicle if he or she abandoned the vehicle on the road without leaving the emergency flashers on;
The driver who struck the stopped vehicle if he or she was speeding or failing to pay attention;
The manufacturer of the vehicle if a defect caused it to break down; or
The city or construction company that failed to put up adequate road construction signs.
Whether you were involved in a crash in which you collided with a stopped vehicle or your own car broke down and was then crashed into by someone else, you could be entitled to compensation. Reach out to our legal team to learn more.
What to Do After a Stopped-Vehicle Accident 
If you are ever involved in a stopped-vehicle accident, there are a few steps that you should take, including:
Staying at the scene of the accident;
Seeking medical attention immediately if necessary;
Rendering aid to any injured parties;
Contacting law enforcement;
Obtaining contact and insurance information from the other parties;
Taking note of any eyewitnesses who saw the accident; and
Taking photos and videos of the accident scene and vehicle damage.
Once you have taken these steps, you should consider reaching out to a lawyer for help pursuing compensation for your losses.
Call Anderson & Anderson for Legal Help Today 
Contact the experienced Tampa car accident lawyers at Anderson & Anderson for help recovering compensation after a stopped-vehicle accident. You can reach a member of our dedicated support staff by calling 813-251-0072 or by reaching out to us via online message.
Sources: 
iihs.org/news/detail/stopped-vehicle-crashes-result-in-hundreds-of-fatalities-per-year
crashstats.nhtsa.dot.gov/Api/Public/ViewPublication/811059