How to Win Your Personal Injury Claim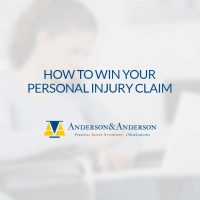 When you're hurt in a serious accident in Tampa, your personal injury claim can provide the funds you need to get your life back. But turning a personal injury claim into a win isn't always easy. You may have trouble gathering evidence for your claim—in fact, you may have a hard time focusing on anything besides your injuries.
Because of this, it can be hard to focus on how to win your Tampa personal injury claim. You may need a Florida personal injury lawyer who can dedicate time to your claim and represent you in the courtroom. That way, you can focus on your health without worrying about your compensation.
Prepare Your Evidence
When you're injured in a serious Tampa accident, you need evidence that shows the at-fault party caused your injuries. They may have been texting and driving, for example, or they may have failed to make their property safe for all visitors. Your evidence should show they ignored the danger and allowed you to get hurt.
But it's hard to search for evidence when you're unable to drive, reduce your pain, or even get out of bed. Winning your personal injury claim may require a lawyer who can seek out your evidence and prepare it for your Tampa court date.
Expect Blame from the At-Fault Party
The bad news is, the at-fault party doesn't want to take responsibility for their negligence. Paying for your suffering may mean paying out of pocket or reducing their profits. If they can pin the blame on you for the accident, they may try to claim you caused it.
Many Tampa injury victims have lost part of their compensation because of these tactics. If you're not prepared to defend your claim, you could lose that amount from your compensation. If you don't defend your claim with a personal injury lawyer, that can have serious consequences for you.
Let's say you're found 25 percent at fault in a Tampa injury claim where you were due $500,000. You may only receive 75 percent of that amount, or $375,000. That's a significant decrease in your funds, which could leave you struggling to overcome the losses you've suffered.
Talk to Your Lawyer about Winning Your Tampa Personal Injury Claim
When you're hurt in a serious accident in Tampa, you need to know what to expect and how to win your personal injury claim. Unfortunately, that can be tough to do as an injury victim. Knowing the steps to get your compensation is only half the battle. You also need experience and resources to gather evidence, prepare a strong defense, and seek compensation in the courtroom.
At Anderson & Anderson, we understand just how tough this can be, which is why we're prepared to seek the compensation you need. We're here to help you go after your max compensation, starting with a free consultation about your claim.
When you're ready to file a Tampa personal injury lawsuit, give us a call for your free consultation at 813-251-0072, or complete the following online contact form.