Broadside Motorcycle Accidents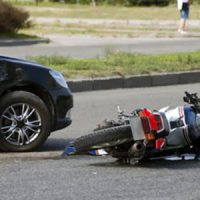 The types of motorcycle accidents in which a person can be involved are wide ranging. Certain types of accidents, however, are notably more common amongst motorcyclists, but also notorious for being particularly dangerous. For instance, motorcycles are often involved in accidents where they are broadsided by another vehicle, almost always in an intersection. These kinds of crashes are dangerous when the vehicles are the same size, so the situation becomes even more perilous for motorcyclists, who are far less protected in the event of collision. To learn more about seeking compensation from an at-fault driver after a motorcycle broadside accident, reach out to our legal team today.
What is a Broadside Accident?
Broadside accidents, or t-bone crashes, occur when a motorcycle rider is struck from the side by the front of another vehicle. In most cases, these accidents happen when a motorcyclist is traveling through an intersection, or is turning left and another vehicle runs a red light and strikes the motorcycle broadside. These situations almost always involve some sort of driver error, such as:
Failing to yield the right-of-way;
Driving while distracted;
Disobeying traffic lights or signs;
Falling asleep at the wheel; or
Driving while intoxicated.
Unfortunately, these accidents usually occur at high speeds, with little to no effort to brake on the part of the at-fault driver, and tend to have particularly devastating consequences for the motorcyclist who is struck. Injuries are often catastrophic and can even prove to be deadly.
Broadside Motorcycle Accident Injuries
Whatever the cause of the accident, broadside crashes typically lead to severe injuries, especially to the lower limbs. Fractures in the legs, hips, and feet, for instance, are common, as these are the parts of the body that are most exposed and are often struck directly by the front of the other vehicle. Broadside accidents also have a high risk of causing spinal cord injuries, with victims being struck from the side and their spine experiencing the full force of impact. The lower internal organs, because they are largely unprotected from impact in a t-bone crash, are also prone to injury. The resulting internal bleeding or organ damage can be deadly, even for those who obtain emergency medical treatment. Finally, being struck from the side often causes riders to be thrown from their motorcycles entirely, so they may suffer from secondary injuries after striking the pavement. These include lacerations, soft tissue injuries, and head trauma. They are also at risk of being struck by other vehicles at this time.
Were You Hurt in a Motorcycle Accident in Florida?
With nearly 40 years of experience handling accident claims in Florida, our dedicated Tampa motorcycle accident lawyers are well-versed in the tactics used by defense attorneys and insurers to discredit valid claims.  For help pursuing your own legal rights after a crash, call us at Anderson & Anderson today. You can set up a free consultation by calling our office at
813-251-0072 or by completing one of our online contact forms.
Sources:
nrd.nhtsa.dot.gov/pdf/esv/esv21/09-0257.pdf
tampabay.com/breaking-news/2-injured-in-motorcycle-crash-intersection-of-haines-road-and-19th-streen-n-closed-to-drivers-20190209/