Where Do Most Slip And Fall Accidents Occur?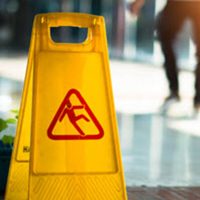 Anticipating a slip and fall accident can be difficult because they can occur just about anywhere and at any time. There are, however, certain places where these kinds of accidents are more likely to take place, like restaurants, grocery stores, and parking lots. Where a slip and fall accident occurs can have a significant impact on how injured parties go about filing a claim.
What Qualifies as a Slip and Fall Accident?
Slip and fall accidents may occur when there isn't enough traction between the ground and his or her feet. These kinds of cases, however, may also involve trip and fall scenarios where someone's foot actually strikes an object, resulting in a loss of balance. Slip and fall accidents are often linked to spills of foreign substances and loose or unanchored flooring, while trip and fall accidents are more likely to involve uneven walking surfaces, poor lighting, clutter in walkways, and uncovered cables.
Common Slip and Fall Locations
Slip and fall hazards are all around us, but there are certain locations where dangerous conditions are more likely to exist, including:
Grocery stores, where liquids and foods are more likely to spill;
Bars and restaurants, which often have dimmer lighting and slippery floors from food and drink spills;
Sidewalks and driveways, which can be dangerous if they are icy or wet, or the asphalt is broken, cracked, or uneven;
Swimming pools;
Gyms and training facilities, which often have slippery floors in their shower areas, bathrooms, and locker rooms, as well as heavy and unwieldy equipment;
Retail stores, which may have clutter in the aisles and slippery flooring;
Escalators and elevators; and
Job sites, especially in particular industries, like construction and manufacturing.
All property owners are required to take steps to make sure that their premises are reasonably safe. Owners and managers of certain properties, however, need to take even more care simply because slip and fall accidents are so much more likely to happen on their property. Property owners who fail to fulfill this responsibility could end up being held liable for resulting accidents.
Demonstrating Liability
Merely slipping and falling on someone else's property doesn't guarantee that a person will be entitled to damages. Instead, in order to recover compensation in Florida, a person must be able to prove that:
The property owner created a dangerous condition on the premises;
The property owner knew the dangerous condition existed, but failed to fix it; or
The property owner would have been aware of the hazard if he or she had taken reasonable steps to inspect the property.
To establish these elements, a plaintiff will need to provide the court with convincing evidence that may include:  security camera footage from the date of the accident, eyewitness accounts, accident reports, and medical records.
Reach Out to an Experienced Tampa Slip and Fall Lawyer
At Anderson & Anderson, our Tampa slip and fall attorneys have more than 40 years of experience helping Florida residents recover financially after a slip and fall accident. To schedule a free evaluation of your own case, call us at 813-251-0072 today.
Sources:
leg.state.fl.us/Statutes/index.cfm?App_mode=Display_Statute&URL=0700-0799/0768/Sections/0768.0755.html
leg.state.fl.us/statutes/index.cfm?App_mode=Display_Statute&URL=0700-0799/0768/Sections/0768.81.html