Uneven Sidewalk Injuries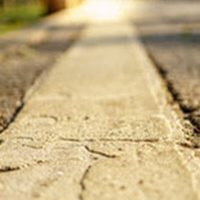 There are a lot of pedestrians in Florida. Whether exercising the dog, walking to work, taking the kids to school, or just visiting the city's sights, walking has become increasingly popular in urban areas, like Tampa. Unfortunately, walking isn't always safe in Florida, where an aging infrastructure has left many of our sidewalks outdated, cracked, crumbling, and uneven. These sidewalks pose a very real tripping risk to pedestrians. In fact, Florida is one of the most dangerous states in the nation for pedestrians. It is, however, possible to recover compensation after a sidewalk accident by filing a claim against the private citizen, city agency, or third party contractor responsible for the pathway's upkeep.
How Do Sidewalk Accidents Occur?
Sidewalk accidents could be the result of unsafe walking conditions, such as:
Uneven pavement;
Loose or crumbling pavement;
Roots breaking through the pavement;
Debris or overgrown foliage;
Potholes or cracks; and
Standing water.
These types of defects represent very real tripping hazards for pedestrians, who could end up falling and suffering serious injuries, including broken bones, most often to the wrists, arms, ankles, and hips, as well as strains and sprains, head trauma, and lacerations. When these injuries are severe, an injured party could be eligible for compensation if there is evidence that a property owner was negligent in keeping the sidewalk properly maintained, repairing hazards, or warning visitors of known dangers.
Filing a Legal Claim
Who can be held liable for a sidewalk accident depends on who was responsible for the upkeep of the area of the sidewalk where the slip and fall occurred. This could include:
A private citizen;
A business;
A municipal agency; or
A third party contractor.
How an injured party goes about filing a claim will depend on the status of the defendant. For instance, if the sidewalk was owned by an individual, then the injured party has four years from the date of the accident to file a personal injury lawsuit in court. If, on the other hand, the sidewalk was the responsibility of the city, then the injured party must file a Notice of Claim within three years of the accident, after which, he or she will need to wait an additional 180 days to file a lawsuit. There are also often limits to how much an accident victim can recover from a city, with plaintiffs limited to maximum awards of $200,000 regardless of how severe the injury is.
Speak with a Slip and Fall Lawyer in Tampa
The first step to filing a sidewalk injury claim is to identify the person or entity responsible for the sidewalk's upkeep. For help determining who owned the sidewalk where your accident occurred, or to learn more about proceeding with a personal injury lawsuit against that person, agency, or company, call Anderson & Anderson and speak with one of our dedicated Tampa slip and fall lawyers. You can set up an initial consultation by calling our office at 813-251-0072 or by completing one of our brief online contact forms.
Sources:
cdc.gov/falls/facts.html
leg.state.fl.us/statutes/index.cfm?App_mode=Display_Statute&URL=0700-0799/0768/Sections/0768.28.html