Stairway Slip And Fall Accidents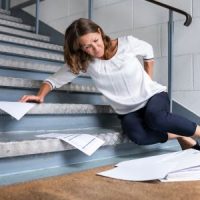 Falls can occur and can cause injury just about anywhere and at any time. Something as simple as slipping and falling on a wet floor at a restaurant could, for example, cause broken bones or a concussion. It is not falling on a flat, horizontal surface, however, that tends to cause the most severe injuries, but falling down stairs.
Potential Slip and Fall Injuries
Falling down stairs almost always leads to more severe injuries than any other type of fall. This is simply due to the fact that the victim is forced to sustain multiple impacts before coming to rest at the bottom of the stairway. Common injuries include:
Bone fractures;
Bruising;
Lacerations;
Internal injuries;
Head and neck injuries; and
Spinal cord injuries.
Even if they seem relatively minor when they occur, many of these kinds of injuries can have far-reaching repercussions. Broken bones, for instance, can take months to heal and may require surgical support with screws and bolts, while lacerations can become infected or leave unsightly scars. Spinal cord injuries can cause numbness, pain, and even paralysis and internal injuries can actually be life threatening.
Common Causes of Stairway Falls
Falls can be random occurrences, a momentary loss of balance or a lack of attention, or could be caused by ill health or dizziness from taking certain medications. Many falls, however, can be attributed to a property owner's failure to keep his or her premises safe by:
Failing to replace torn or loose carpeting on the stairs;
Failing to warn visitors of spills or wet floors;
Failing to repair warped or uneven stairs;
Failing to install adequate lighting in the stairwell;
Failing to de-ice or drain standing water from outdoor stairs; and
Failing to maintain, repair, or replace broken handrails.
This type of negligence could be proof of a property owner's failure to make his or her premises safe for invited guests. To prove this, however, an injured party will need to conduct a thorough investigation into the cause of the accident, which will require taking photographs of the accident scene, requesting prior accident reports, obtaining security footage from the accident scene, and collecting the names of eyewitnesses who saw the accident take place. This can be a difficult process, especially for an accident victim who is still recovering from a physical injury. Fortunately, working with an experienced attorney can make all the difference to the success of this type of investigation. To learn more about how an experienced legal team could help with your own case, reach out to our legal team today.
Were You Hurt in a Slip and Fall Accident?
At Anderson & Anderson, our dedicated lawyers have been helping accident victims in the Tampa Bay area and surrounding communities for more than 35 years. This has given us a lot of insight into and experience with the local court systems. Call us today at 813-251-0072 and let our dedicated Tampa slip and fall lawyers put that experience to use in your own case.
Sources:
pubmed.ncbi.nlm.nih.gov/7936895/
leg.state.fl.us/Statutes/index.cfm?App_mode=Display_Statute&URL=0700-0799/0768/Sections/0768.0755.html